Resource and Referral Database
Financial, Rent and Utility Assistance
Seattle or King County Resources
City of Seattle Utility Discount Program
The Utility Discount Program (UDP) offers eligible customers a 60% discount on their Seattle City Light bill and a 50% discount on their Seattle Public Utilities bill. UDP is available for income-qualified residential households. Learn more and apply here.
Sex Worker Aid Network (Grants and Supplies) via Green Light Project
We are prioritizing the needs of street based workers, trans, POC, and immuno-compromised workers. We will be using it to purchase medications, sanitation supplies, toiletries, as well as provide cash support for bills and rent. If you are in need of assistance and would like to apply, please email GLPsani@protonmail.com
Rental Assistance for Young Adults
King County
Y Social Impact Center is here to support young people through these financially uncertain times. Offering up to 6 months of rent assistance to community who are:
- Currently 18-24 years old
- Reside in King County
- Income at or below 80% area median income over the past 60 days
- Behind in at least 1 month of rent (full or partial) since 3/1/2020
For more info (M-F 9-5pm PST):
Email renthelp@seattleymca.org
Call (206) 751-7130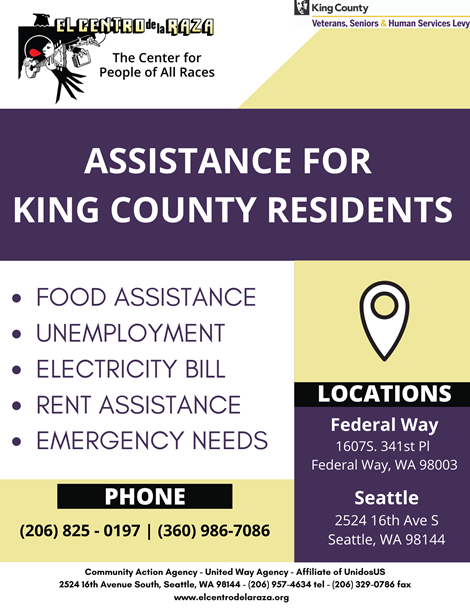 Rental Assistance Resources in WA State
An online directory of rental assistance programs in Washington. Check out the directory here. 
Arts and Culture Leaders of Color Emergency Fund
The Arts and Culture Leaders of Color Emergency Fund is intended to help those pursuing careers as artists or arts administrators whose income has been directly impacted by the COVID-19 pandemic. This fund is for those who self-identify as BIPOC (Black, Indigenous, People of Color). If you fit this description and you are in need of short-term, immediate financial assistance – visit here to apply.
Hospitality Worker Assistance (Greater Spokane area) via Big Table
Spokane, Spokane Valley, West Plains, Liberty Lake
Initial care may look like the following – utilities assistance, help with rent or a deposit for housing, connections to a counselor, car repair, diapers or food for a single mom, a bike for work transportation, medical or dental help, or assistance with resume development.  We do not provide hotel vouchers or long-term financial assistance.
NOTE: This program requires a referral from a coworker or manager, learn more here.
Puget Sound Energy Assistance Programs
Puget Sound Energy offers two programs for residential customers to help pay your electric or natural gas bills. Eligibility is based on your household income and the number of people that live in your home. Learn more and apply here.
One Fair Wage Funds for Restaurant/Tipped Workers
Providing cash assistance to restaurant workers, car service drivers, delivery workers, personal service workers and more who need the money they aren't getting to survive. Learn more and apply here.