Resource and Referral Database
Food Assistance and Mutual Aid
Seattle Specific Resources
Northwest Harvest's SODO Community Market
Offering pre-bagged produce, prepared foods, and shelf-stable groceries right at the door. This is open to anyone of ANY AGE. Located at 1915 4th Ave S, near the corner of 4th Ave S & S Holgate St. To learn more visit here.
Seattle Public Schools Student Lunch Support (Map)
Seattle Public Schools is committed to providing meal service to students. They are providing meals by bus and at SPS sites. If you have questions about this program, please call 206-252-0675.
Learn more and find a service area map here.
King County Emergency Food Access Resource List
Featuring: General Food Resources, Food Delivery Resources, Food Pick-Up Resources, Older People w/Disabilities, Pregnant People, new moms and children under 5, Children, People Without Shelter or Who have Low-Incomes (Including Teens), For US Citizens and Legal Immigrants, State and Federal Resources - visit here.
King County Food Banks
For an active list of King County Food Banks, Food Pantries, and Soup Kitchens – and their locations and operating hours, visit here. 
City of Kent Food Resources
For a list of food resources in Kent, Washington (updated 2/3/2021) – visit here.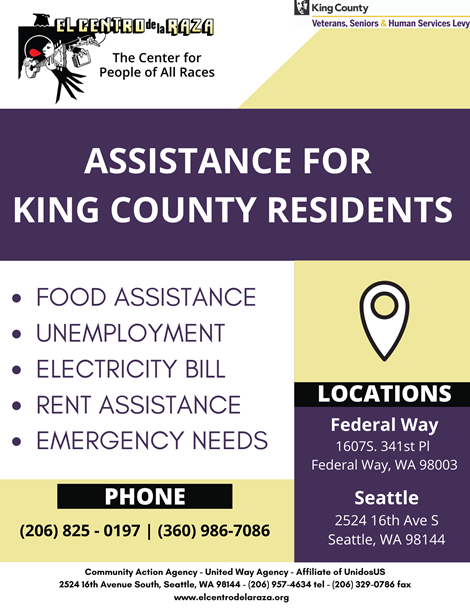 South Seattle & Eastside - Mutual Aid
Neighbors helping Neighbors. Mutual aid support for survivors, sick & disabled, immunocompromised, elders, undocumented, black, queer, indigenous, and or people of color. If you would like food or other supplies dropped off on your porch, or have someone check in on you, please use this form to let us know what support you need. Visit here to apply.
King County Food Bank Home Delivery
United Way of King County, Food Lifeline, the City of Seattle, and Metro Access are excited to offer home delivery of food boxes across King County during COVID-19. To place an order for a one-time delivery of food (can be reordered weekly), visit here.
Autoimmune-Compromised and Disabled Rural Queer Mutual Aid
This is a form by Queer Appalachia to organize mutual aid to autoimmune compromised and disabled rural queers. Learn more and apply here. 
Tacoma - Food and Supply Delivery
If you are sick, quarantined, immunocompromised, or elderly and would like food or other supplies dropped off on your porch, please use this form and we'll get back to you as soon as possible. Approximate budget is $50 per family, with the option to pay for additional items. Learn more and apply here. 
Olympia Mutual Aid Collective
We are an all-volunteer grassroots group operating in South Puget Sound( South Salish Sea) Area. Learn more and apply here. 
Little Free Pantry (Map)
The mini pantry movement is a grassroots, crowdsourced solution to immediate and local need. Whether a need for food or a need to give, mini pantries help neighbors feed neighbors, nourishing neighborhoods. For more information visit here. 
Skagit Mutual Aid Support Services
Food or other supplies dropped off at your front door. We are prioritizing folks who are sick, disabled, undocumented, quarantined without pay, elderly, families with children. Learn more and apply here. 
Olympia - Mutual Aid Common Stash
In light of the chaos and crisis surrounding COVID-19, many are stock piling for themselves, hoarding supplies to ensure their own survival. Capitalism tells us that it is each one of us for ourselves, but we know that caring for each other is caring for ourselves. We are not afraid of sickness—many of us are already sick, and those of us who are not yet sick will one day become unwell. But we are afraid of not getting cared for, of not getting what we need and of those we love not getting what they need, so we are coming together, collecting and redistributing herbal remedies, over the counter cough medication, and other supplies to our friends and neighbors. Learn more here. 
Mutual Aid (Map)
Interactive Map to find COVID mutual aid resources near you. Learn more here. 
Bellingham Mutual Aid Request Form - Neighbor In Need (NIN)
This group is meant to support those who are especially vulnerable - the elderly, immunosuppressed, quarantined, or people with disabilities - who require tasks of service to maintain their health and wellbeing during the COVID-19 outbreak. We are here to perform essential logistical tasks for free for those who are unable to leave their homes. It is expected that requested items (groceries, medication etc) are paid for by the NIN upon agreement of service. This is done through Paypal or Venmo. If you don't have either of these, we will be happy to organize a solution with you. We do have a modest stock of essential non-food items, and donated funds, for those who are experiencing struggle due to job loss, disability, health challenges, low income etc. Learn more and apply here.