Events for November 19, 2020
Events Search and Views Navigation
1:00 pm
In an effort to create better work environments for transgender and gender diverse community in Washington, we are offering a free 2 hour training on Trans Cultural Competency for local employers. We hope to build relationships with employers through offering an opportunity to learn about what it means to be transgender, the systemic barriers that transgender folks face while navigating employment, and ways that employers can disrupt transphobia in their own companies and organizations.
You can RSVP via the link attached (http://bit.ly/2020et). If you're unable to attend this time around, please take a look at our training and technical assistance program online or reach out to us via email at info@ingersollgendercenter.org for more information on different opportunities.
If you have any questions about this training opportunity please contact our Programs Director, Lee, via email at lee@ingersollgendercenter.org
Find out more »
7:00 pm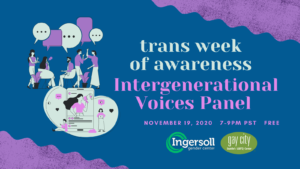 Join us for a panel discussion: Intergenerational Voices for 2020 Trans Awareness Week! This event is free and open to all who are interested in attending ❤
RSVP at http://bit.ly/2020igp for login information
We'll be joined by up to six trans and gender diverse panelists; panelists to be announced soon!!
Interested in supporting our Trans Week of Awareness programming? Make a personally meaningful donation at https://bit.ly/donate-ingersoll
---------------------------------------
Thank you to our Trans Awareness Week Sponsors:
- Fred Hutch Rainbow Employees for Equity
---------------------------------------
Find out more »
+ Export Events